Psychic Medium & Animal Communicator
Connection, Confirmation, Reassurance, Communication, Understanding, Love, Joy and Peace
Charles Peden is a gifted psychic medium and animal communicator who can connect you with your animal companions living and or passed, and with the spirits of your ancestors and loved ones.
If seeking a connection with an animal or loved one in spirit, seek no further. Peden provides his services worldwide over the phone, via Skype and in person.
"Have Had Three Readings. Charles Never Disappoints. Suggest The Hour Reading…To Accommodate The Unexpected Visitors Who Wish To Come Through!"
Ken K. (Houston, TX)

First Brushes
My first brushes with my future career and life path as a pet psychic (animal communicator) and medium took place around the ages of three to six. I grew up in the middle of the forest in western Oregon and had several family pets. One of my favorites was a cat named Pearl who used to follow my brother and I on our exploits and adventures through the woods. Sadly, one day Pearl went missing. Several months later I thought she had returned, but quickly discovered that I was the only one in the family that could see her.
About a year later I remember seeing the ghostly figure of a gentleman dressed in buckskins with fringe. The ghost had a long rifle slung over his back and a large knife in his right hand. This apparition would drift from one room to the next in our home and usually went from the hall bathroom into a study room across the hall. Later I would come to find out that the area where we lived was well known trappers that traded in beaver and other furs.
Soon chasing after ghosts and the experiences of seeing deceased pets became a distant memory as the innocence of childhood was replaced with the mundane demands of living in the adult physical world. Between school and work there was little time for contemplating memories which seemed to make no sense.
Years later
I was happily married, and at the helm of my own business. I had left the "rat race" for a career as a purveyor of sea glass, jewelry and offering guided beach combing tours. After founding both a business www.bythebaytreasures.com (since sold) and co-founding the North American Sea Glass Association www.seaglassassociation.org,
I found myself at a turning point in my life.
On the evening of January 24th, 2006 a ghost appeared in my home and reawakened my dormant abilities to communicate with the spirits of those who had passed. I had been a skeptic of all things paranormal as an adult and had chalked up my childhood memories to nothing more than a vivid imagination. Now here I was faced with a ghost who looked every bit as real as my mailman. I suddenly found myself not only seeing this ghost, but interacting with her and understanding what she was communicating. After checking with historical records and consulting our town's historical society, it became clear that she had lived on the property in Benicia, California where we lived at the time.
Support
I am grateful for the support and assistance of family and friends (including those in spirit), especially my wife, Heidi, and sister, Erin. Without them, I would not have been able to so easily develop my telepathic and intuitive abilities. Being able to receive independent verification of the information that I was receiving enabled me to rapidly hone my skills. Within a few months I found that I could communicate with not only passed humans, but virtually any species of domestic or wild animals, both passed and living.
A few months after learning that I could communicate with those in spirit, Heidi was chatting with an acquaintance of hers who owned a metaphysical bookshop that on occasion featured various readers and healers. The owner of the shop asked if I would consider offering my services as a medium to his clientele. Soon after, the director of the local Humane Society stopped in at the shop looking for donations for their upcoming fundraiser, and I donated a gift certificate for a psychic reading. Later, the director asked me about a dog in his care. He was so pleased with the reading, he asked me to offer my services at the fundraiser. Over the past decade I have traveled from coast to coast making appearances at various animal-related events.
Unfolding
Early on in my "unfolding," I began to question my true life calling. I was finding great success in the sea glass world, with newspaper interviews, an article in Coastal Living Magazine, and an appearance on the Travel Channel. I was not looking for something else. However, as I increasingly found my work disrupted by those in spirit, I wondered if, due to the disruptions and intrusions, I should embrace working full time as a psychic medium and quit working in the field of sea glass.
Looking for guidance, I decided to go kayaking, as spending time out in nature is very conducive to connecting with spirit. Before getting into my kayak, I asked for a clear and tangible sign as to what my life path was. After spending several minutes drifting along in the Carquinez Strait, I got out on the opposite shore and found my sign just six inches to the right of the kayak's bow.
Where I would normally expect to find sea glass, I saw a small ceramic skull that almost appeared to be grinning at me. I knew I had my answer. A few months later I gave up the presidency of the Sea Glass Association, sold my sea glass business, and began to offer my services to the world full time as a psychic medium and animal communicator.
Sign
Six years later we left Benicia and moved to the gold country in Amador county. Again I wanted to check in with spirit to verify that I was indeed on the right path. I asked for a clear sign before going out into nature–this time to go gold panning in a local creek.
While working a small crevasse near the waterline, I found the gold, bullets and coins shown in the photo, along with the silver stud earring that happens to be a skull! Same question, same answer.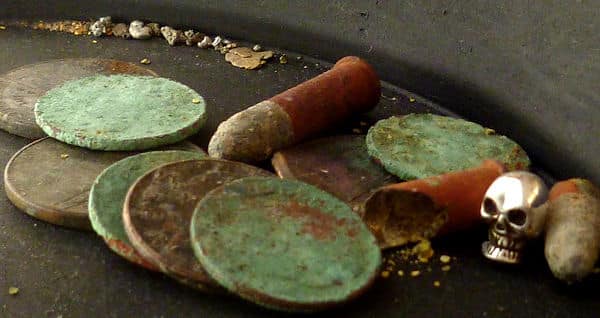 Reality
Moving to the foothills afforded our family the opportunity to grow up in a beautiful environment with forests, mountains, rivers and lakes surrounding us, but something was missing.
After coming to Tucson, Arizona for a few events in 2014, it became clear that we would be moving to the Sonoran desert in the future. After two years the dream became a reality and we made the move from California's Gold Country to Southern Arizona.
Present
At present our family includes three "fur kids," Benjamin bunny, our dog, Breezy, a Chihuahua/Pomeranian mix, and our cat, Leo.
I get a lot of questions about the ability to communicate telepathically with live animals and the spirits of humans and animals. Many people want to know if my wife and kids also have the ability. The answer is yes, everyone has this ability. Just like with any skill, such as art or music, the more you recognize and practice it, the stronger it becomes.
Blessed
I greatly enjoy, and feel both blessed and privileged to do what I do on a daily basis. It is difficult to put into words just how wonderful it is to connect people with their departed loved ones, or give a voice to an animal companion.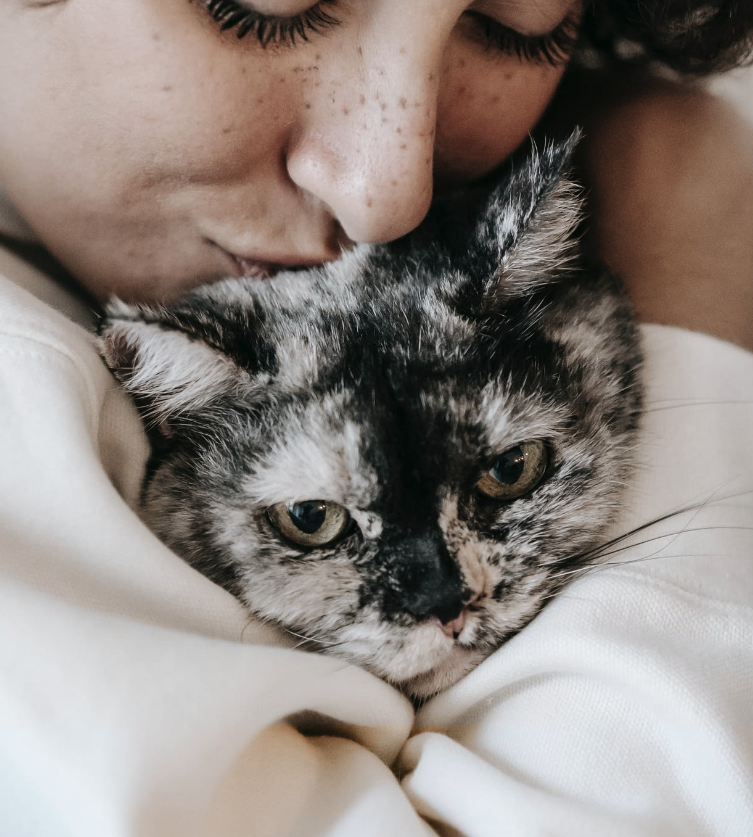 "Charles is the real thing. I've had readings with others and was not able to connect. With Charles, he told us incredible things-things no one could know. He connected with our beloved dog, grandfather, great grandfather and family friend. Really amazing!"
Tammy Geerdts (Caledonia, Wisconsin)
Received via email November 3, 2018
From checking in with an ill pet to connecting with a passed loved one in spirit or researching your families genealogy, Charles Peden is here to assist you.